QuickLabel / TrojanLabel – New digital colour desktop printers for small and medium-sized runs
2018.09.06
---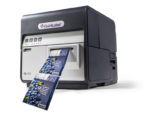 QuickLabel and TrojanLabel are trademarks of AstroNova, offering desktop label printers, industrial label presses and specialty printers. The Kiaro! QL‑120 is built on the color label printer Kiaro. According to the company the QL‑120 surpasses the Kiaro! with a faster print speed, new features, and ease of use.

According to the company iIts fast printing speed of up to 300 mm/s makes the QL‑120 the fastest desktop colour label printer in the QuickLabel series by AstroNova Product Identification. Its 1200 dpi resolution ensures that also very small font sizes and images are printed sharply. The printer's water-based ink and its colour range shall allow printing on a variety of materials. Thanks to its resistance to various fluids, the QL‑120 is suitable for the food, chemical, cosmetic and E-liquid industries.

Its electric cutting feature for post-printing label-web cutting and its ability to print individual labels with no label loss, make the QL‑120 might be an economical and intelligent colour desktop printer for high-quality labels. The QL-120's simple integration into label dispensing systems and networks and its automatic periodic cleaning feature.