The 7th All in Print China 2018 Talkfest was Held Successfully in Shenzhen
2017.09.19
---
In the evening of September 7, 2017, the 7th All in Print China (AIP 2018) talkfest was held in Shenzhen, attended by more than 50 representatives, including leaders from the organizers such as Director General Wang Yanbin, Honorary Director General Wu Wenxiang and Secretary General Chen Yingxin from The Printing Technology Association of China, President Chu Tingliang of China Academy of Printing Technology, General Manager Axel Bartkus of Messe Düsseldorf (Shanghai) Co., Ltd, General Manager Chang Xiaoxia and Deputy General Manager Li Xin from Beijing Keyin Media & Culture Co., Ltd, leaders from foreign and domestic famous printing machinery suppliers such as Komori, HP, Kodak, Founder Group, Basch, Yuncheng Plate Making Group, Shanghai Yinzhi, Zhejiang Zhengrun, Guowang Group, Shengtu, Zhengbo, Kingswood, Bolaite, Guanli, Huawei, China Paper, Yueyang Paper, MCC Paper, UNI-M TECH and Meiyin Tech, leaders from famous printing enterprises in Guangzhou such as Guangzhou Printing and Packaging and QL-ART, and media representatives from China Printing, Printing Technology, www.keyin.cn and Printing Manager. Both the organizers and the exhibitors joined the discussion and communication in a relaxing atmosphere and made proposals for the improvement and upgrade of All in Print China 2018.
At the beginning of the meeting, Ms. Wang Yanbin, Director General of The Printing Technology Association of China, expressed the organizers' goals for successfully holding All in Print China 2018 and building upan industry platform on behalf of the organizers, and pointed out that in order to enhance the influence of All in Print in an international context, with the efforts by The Printing Technology Association of China, World Printing and Communication Forum 2018 will be undertaken by The Printing Technology Association of China and concurrently held with All in Print China 2018. The printing leaders from all over the world will participate in this international industry event.
General Manager Chang Xiaoxia of Beijing Keyin Media & Culture Co., Ltd briefed the preparation for All in Print China 2018, explained the significance of the All in Print China 2018 theme "Enter the Era of Intelligent Printing", announced the data of the exhibition since its inauguration on May 15, 2017 and gave detailed explanations on the questions about the exhibition time, etc..

The 7th All in Print China will be held on October 24-28, 2018 with the theme of "Enter the Era of Intelligent Printing" , covering 110,000m2 area, trying to be the world's largest printing event in 2018. The exhibition consists of 8 theme pavilions, including pavilions for digital pre-press, comprehensive printing, postpress converting, packaging equipment, ink & innovative materials, label industry, flexo printing technology and innovation factory, in addition to special areas for corrugated paper and flexible package. AIP 2018 will cover the whole printing and packaging industry chain. By August 31, the registered exhibitors have reached 347, with exhibition area exceeding 62,000m2.

In the "All in Print, All for You" interactive part, manufacturers and business representatives actively participated in discussions.The guests gave high acclaim to the innovation, reform and development of All in Print China since 2003, and highly praised the fact that All in Print not only has stood out distinctively in information dissemination user experience and third party certification value, but also has done an excellent work in realizing the exhibitors' ideas and spiritual value, as well as the services provided in comparison with the similar exhibitions.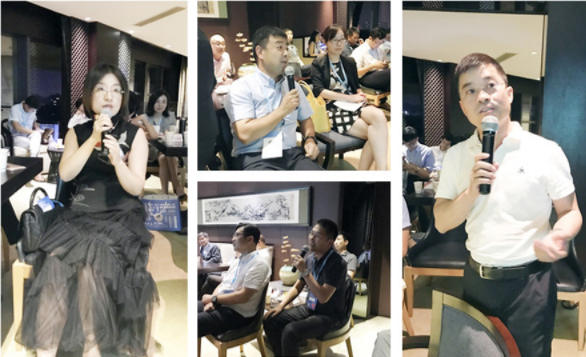 Meanwhile, they also made some suggestions and expectations on All in Print China 2018, proposing to keep in line with the industrial development, increase on the display of eco-friendly solutions, highlight the protection of intellectual property rights, build a real intelligent factory simulation scene, provide more exhibition schemes to the end users, build platforms and opportunities for exhibiting cross-border technology innovation and application services, and so forth. After the meeting, they all expressed that the meeting was held in a timely manner, fully understood the unique value of All in Print China 2018 in building up the communication platform for the printing industry, and was assured of planning to participate in the event.
The organizers will listen to views from all parties and take into consideration the opinions proposed by the exhibitors to configure new modules and contents in AIP 2018, join hands with well-reputed brands, dig into industrial segmentations, provide comprehensive exhibition platform for equipment, consumables, software and applications, establish an exhibition and exchange platform for worldwide printing and packaging enterprises and thus promote bilateral trade between suppliers and buyers. Meanwhile, the exhibition will also provide to the industry international high-end opportunities for exchanging and promoting the communication and spread of new printing and packaging technologies.