Bobst – Promising solutions for printing and converting at Competence 18
2018.06.19
---
Visitors to the Competence 18 open house event have the opportunity to witness the future of the printing and converting industries first-hand.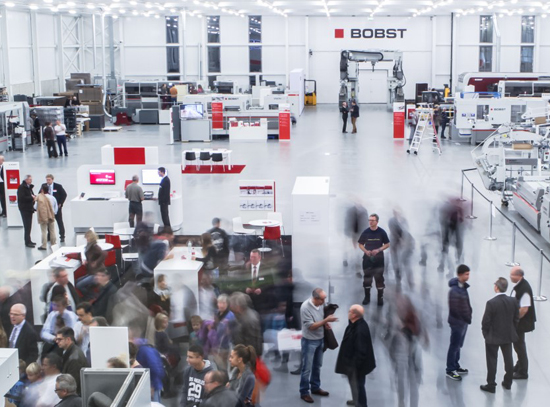 The Bobst Competence Center, the venpetence 18 eventue of the Competence 18 event
Solutions to some of the key trends facing packaging converters – such as the need for shorter runs, greater versatility, e-commerce and constant innovation – has been in the focus at the company's competence centre at Mex. "For the first time we will showcase substrate processing, printing and converting in one single event", as Bobst CEO Jean-Pascal Bobst explained the new comprehensive approach of this event.

This included live demonstrations of selected key machines and information on Bobst Services on some developments.


Solutions for converting and box-making

For hot foil stamping the company presented the Expertfoil 142, a genuine solution for hot foil stamping in format size VI. Mastercut 145 PER and Mastercut 106 PER are automated die-cutters for fast and uninterrupted production.

Demonstrations at the Mastercut 145 PER automated die-cutter

In the field of folder-gluers, the Masterfold 75 with Easyfeeder/Batch Inverter 4 and Cartonpack 4/Case erector is a fast and most automated system. With its modular design and single box set-up, Masterfold 230 with Gyrbox XL offers the fast production of complex designs in a single pass, particularly e-commerce boxes. Expertfold 110 is a versatile folder-gluer to produce most diverse box styles in a wide range of materials at speeds of up to 450 m/min (1476 fpm). Speedwave 2 can be added, mainly for the production of crash-lock bottom boxes. Expertfold 165 and Speedpack are fully automatized lines designed to provide complete control during the folding process, whatever type of corrugated board or litho-laminated boxes you produce.

Solutions for printing
Samples are displayed in a dedicated area of the Competence Center to show the company's capabilities and process technologies for printing labels, flexible, folding carton and corrugated boards packaging. A selection of samples printed using the Extended Color Gamut (ECG) process highlights these capabilities, including samples from the REVO team in Florence, THQ technology in Lyon and ECG Center of Excellence in Bielefeld.

Available for viewing is also a static module of the web-fed M8 Lemanic inline flexo press featuring web widths up to 1070 mm (42") and speeds up to 400 m/min (1312 fpm) with option of ink types, drying systems, and reel-to-reel, reel-to-sheet or reel-to-blank folding carton applications.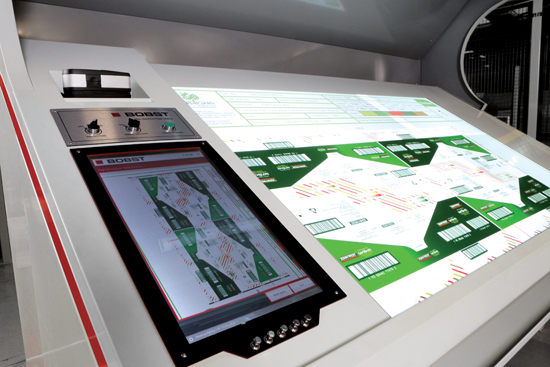 The digital inspection table is designed to drive quality assurance, productivity and virtually remove print production errors
Another highlight is the digital inspection table designed to drive quality assurance, productivity and virtually remove print production errors. It incorporates digital projection for the proofing of printed sheets and die-cut blanks, whilst providing real-time visual representations to match product with digital proofs. It uses HD projectors to illuminate the product sample with quality control imaging, enabling the operator to determine if quality standards are matched or compromised.

The Bobst Services

Connected Services: The partnering with Bobst does not end after a machine is purchased as the company offers connected services with the intention to boost productivity and profitability for owners of such machines. This also includes the new MyBobst personal webportal for 24/7 access to all information on the respective machine, spare parts and ordering information in one place.

Tooling: Bobst tooling solutions provide productivity on any die-cutter. All tools meet the same quality and reliability requirements and there will be the opportunity to consult with tooling experts on how to manufacture tools that optimize quality.

All in all, this impressive presentation of solutions, machines and service proved the claim of Jean-Pascal Bobst, to showcase substrate processing, printing and converting in one single event.